About Academy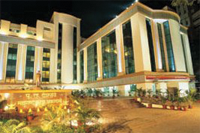 P. L. Deshpande Maharashtra Kala Academy
was established by the Government of Maharashtra to perpetuate the memory of Maharashtra Bhushan late Shri. P. L. Deshpande for his rich, outstanding and invaluable contribution to Marathi Literature, Theatre and Music. The Academy was inaugurated by the then Honorable Chief Minister on 17
th
November 2002.
The Total Area of P. L. Deshpande Maharashtra Kala Academy is 1,53,68.89 sq.mt
Ravindra Natya Mandir Auditorium Building
9924.57 sq.ft.
P.L.Deshpande Maharashtra Kala Academy Building
4000.10 sq.ft.
Balbharati Building
1454.64 sq.ft.
ICICI Bank Building
589.68 sq.ft.
The facilities in the Academy include Ravindra Natya Mandir with a capacity of 911 seats, Mini Theatre with a capacity of 199 seats & an Art Gallery. There are two Exhibition Halls for holding Art-Exhibitions. Besides, there are also A/C & Non A/C Halls for Rehearsals, Training programmes & Seminars etc.
The main objective of this Academy is to preserve and promote the rich cultural heritage of Maharashtra and the Classical, Traditional and Contemporary Performing Arts including Music, Dance and Drama and Visual Arts in the form of Painting, Sculpture, Photography and Graphics.
The other objectives include promotion, growth and revival of Music, Dance and Drama and for preservation, documentation and dissemination of materials relating to various forms of Music, Dance and Drama and for the recognition of contributions to the performing arts by outstanding artists. Also -
To promote and facilitate development of various forms of dramatics such as Drama, Musical Drama, Children's Theatre and Folk Drama and Theatre
To foster and co-ordinate activities in the sphere of creative visual arts in Maharashtra
To disseminate knowledge, promote awareness and appreciation of performing and visual arts amongst the general public and to sponsor or undertake scientific research in the fields of performing arts, visual arts and literature with the objective of further development by encouragement of innovation
To work towards Inter-State Cultural Exchange
To arrange, organize or sponsor Shows, Performances, Recitals or any other programmes of performing arts and arrange for the writing, digital recording or making of records by any process whatsoever of such programmes
And, to undertake, organize and facilitate Conferences, Seminars, Study Courses, Training Programmes, Lectures and Workshops and similar Other Activities for furtherance of the objectives enumerated above.